General analysis USDCAD for 10.06.2022
10.06.2022 06:21
Week
General
Current dynamics
USD/CAD reached the June highs and consolidated around 1.27000
Among the main factors that caused the USD/CAD pair to rally to the June high at 1.27000 is not only the recent strengthening of the US dollar, caused by the consistent measures of the Federal Reserve to fight the rising inflation, but also the decline in the price of WTI, which is the main export item of Canada. After reaching the above-mentioned peak, the pair entered consolidation, waiting for traders reaction to important macroeconomic statistics on both currencies of the pair, coming out today.
Another significant and more complex driver of the rise in the pair was the global decline in appetite for risk, caused by a number of reasons of various nature.
The European Central Bank (ECB), which is concerned about rising inflation, announced its decision to stop the quantitative easing policy and raise its key rate by 25 bps at the next meeting on July 25.
The Fed also does not intend to abandon its plans to raise the rate by 50 bps over the next two summer meetings scheduled for June and July, with most analysts agreeing that with the expectation of a continued upward trend in inflation, despite fears of a possible economic recession, successive rate increases will occur not only in September, probably also by 50 bps, but by the end of 2022 as well.
At the same time the Bank of Canada (BOC) also keeps up with this trend, despite the expressed fears about the risks of downward tendencies for the national economy, caused by toughening of the monetary policy.
The situation with oil prices also adds uncertainty to the pairs perspectives: on the one hand, the crude oil embargo from Russia, which provokes the world energy crisis, pushes the black gold price up, on the other hand, the return of the covid restrictions in the People's Republic of China, which is a major exporter, sends oil prices south again.
Among the macroeconomic data which were mentioned at the beginning of this article and are expected to be published today, the ones which may affect the further USD/CAD pair quotes fate in the nearest future should be mentioned the Core Consumer Price Index for May, which is expected to decline by 0.1% from the previous 0.6% in the USA and the Employment Change for May in Canada, which is expected to increase almost twice, from 15.3K in April to 30K last month.
Support and resistance levels.
Alligator is hungry: its mouth is wide open, its jaw (blue line) is low under the lips and teeth (green and red lines), the instrument is in an uptrend. The nearest fractal above he alligators teeth (red line) is at 1,27050. Awesome Oscillator (AO) and Accelerator Oscillator (AC) are both in the red area, which is a confirmatory sell signal.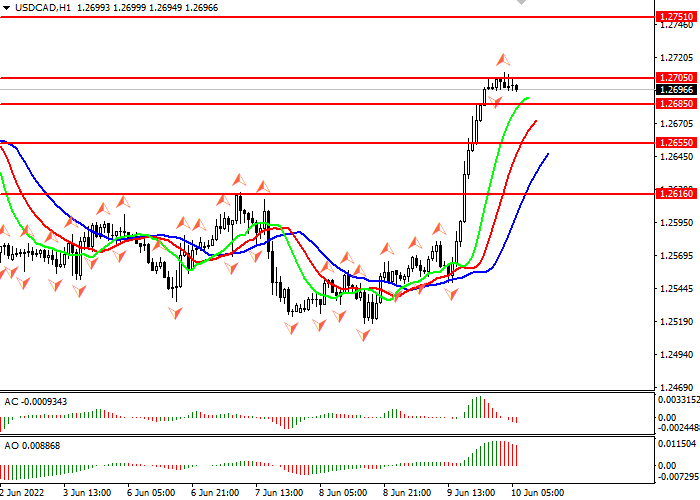 Support levels: 1.26850, 1.26550, 1.26160
Resistance levels: 1.27890, 1.27510, 1.27050
Trading scenarios
Short positions can be opened below the level of 1.26850 with target 1.26550 and stop-loss 1.26950 Implementation period: 2-4 days
Long positions can be opened above the level of 1.27050 with target 1.27510 and stop-loss 1.26950 Implementation period: 2-4 days